Joining search and rescue part two: gear
Last post, I shared the required training and gear list for joining our search and rescue team. This time, I thought I'd share which specific gear I chose to meet the requirement, along with a few pieces of elective gear I added to supplement my kit.
As I mentioned in the last post, we were required to procure the gear simultaneously to completing training and certification, so several of us have already switched out some pieces of gear as a result of using it in the field.
For reference, I've repeated the required gear list below. I won't highlight every piece of gear, only the notable or add-on pieces of my kit.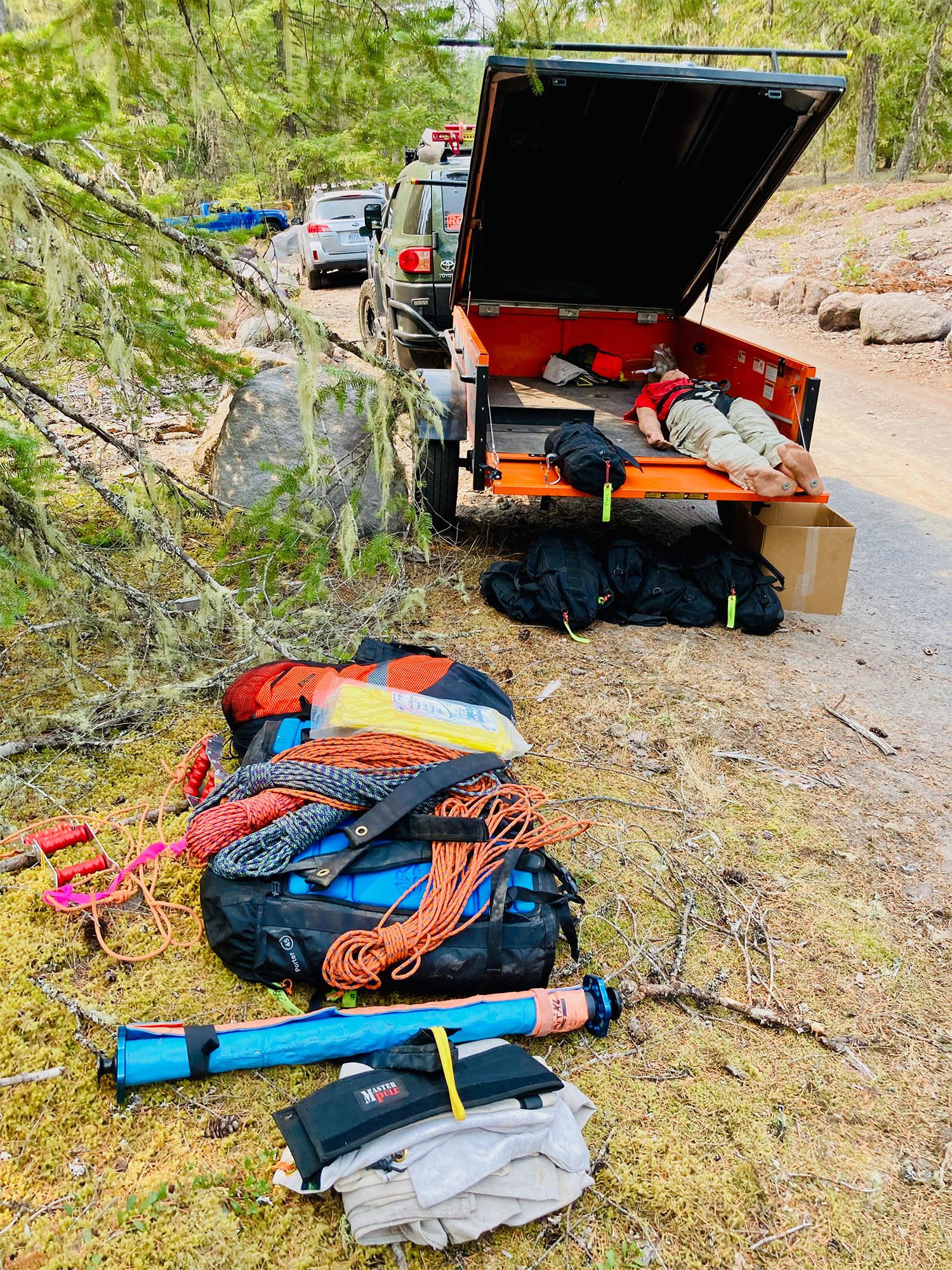 Search and rescue team training gear, August 2021
Pack(s)
As I mentioned in the previous post, I designed my pack system such that all the "hasty" items are confined to two modules that can be included in my 24-hour pack, but also removed and attached to a separate harness. Since all of the hasty items are also required for the 24-hour pack, this allows me to quickly and easily pull them out and take just those modules for hasty searches.
24-hour pack
My 24-hour pack started as a 40L REI pack, but I quickly found it to be too small. My helmet had to be attached to the outside of the pack (when not wearing it, of course), and there was very little room for a 24-hour food supply. I prefer all my gear to be contained so it's not bouncing around as I move through the brush.
For a larger option, I selected the Mountainsmith Scream 55. I've had good luck with Mountainsmith gear in the past (I've used the Mountainsmith Lariat 65L for years), and found it to be a solid, lightweight option.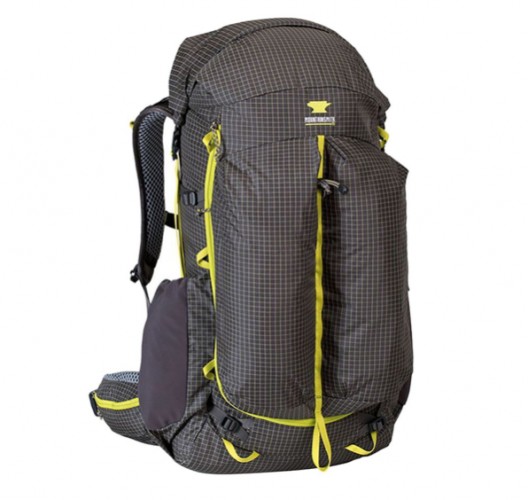 For my search and rescue needs, my favorite feature of the pack is the ability to access any of its contents without having to dig from the top. The Scream 55 has full, u-shaped zipper access to everything in the pack. You never know what you might need to immediately access on a SAR mission, and being able to quickly get to everything in the pack is essential.
Notice the large orange and black compartments near the top of the bag. Those two modules contain all of the hasty gear (along with the helmet and chest harness). I can quickly access those and attach them to a separate harness, forming my hasty pack.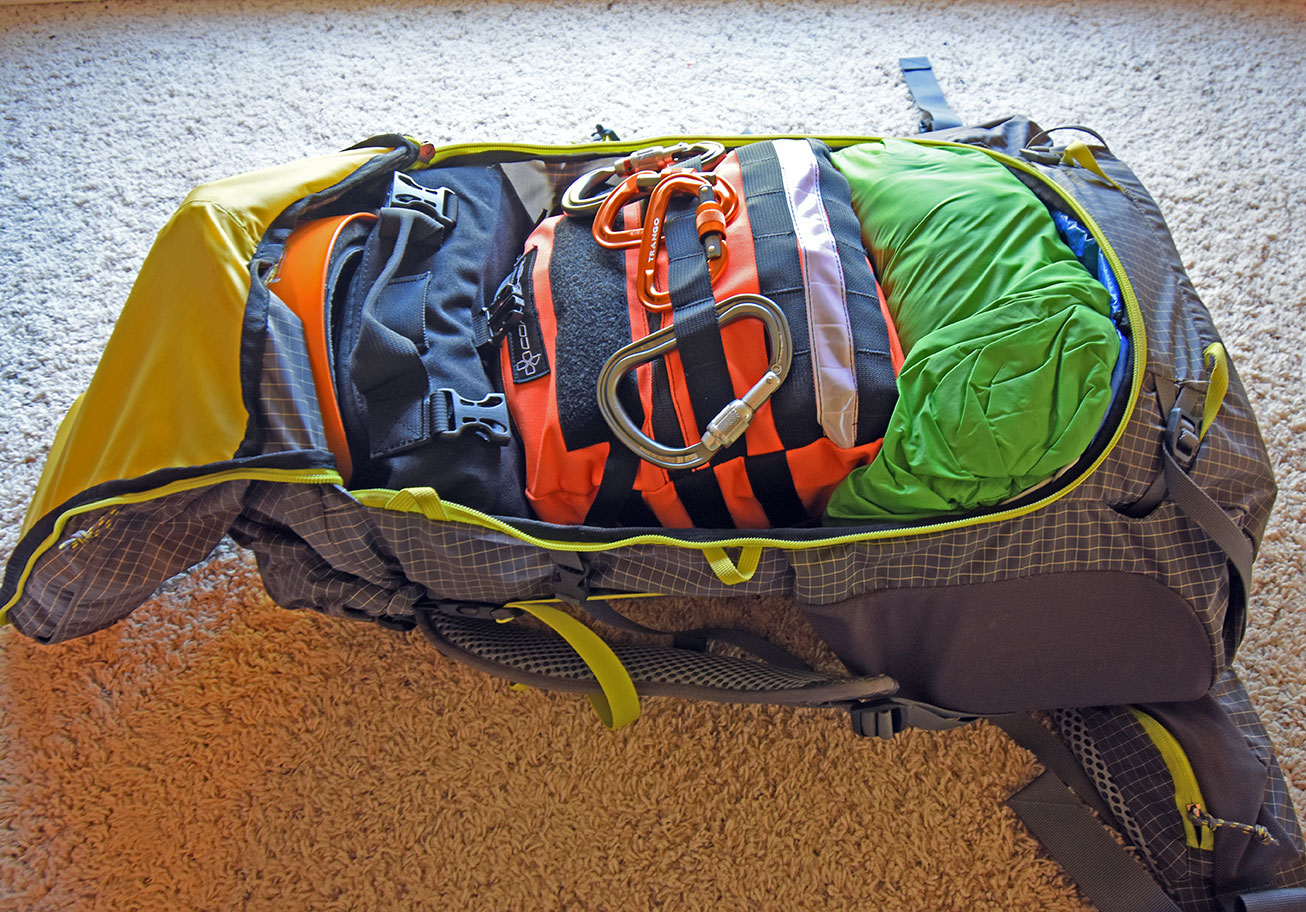 Items required for the 24-hour kit that aren't included in the hasty pack largely fall under the categories of shelter, water purification, hygiene, and extra clothing.
Here are a few add-ons and notables from this extended kit: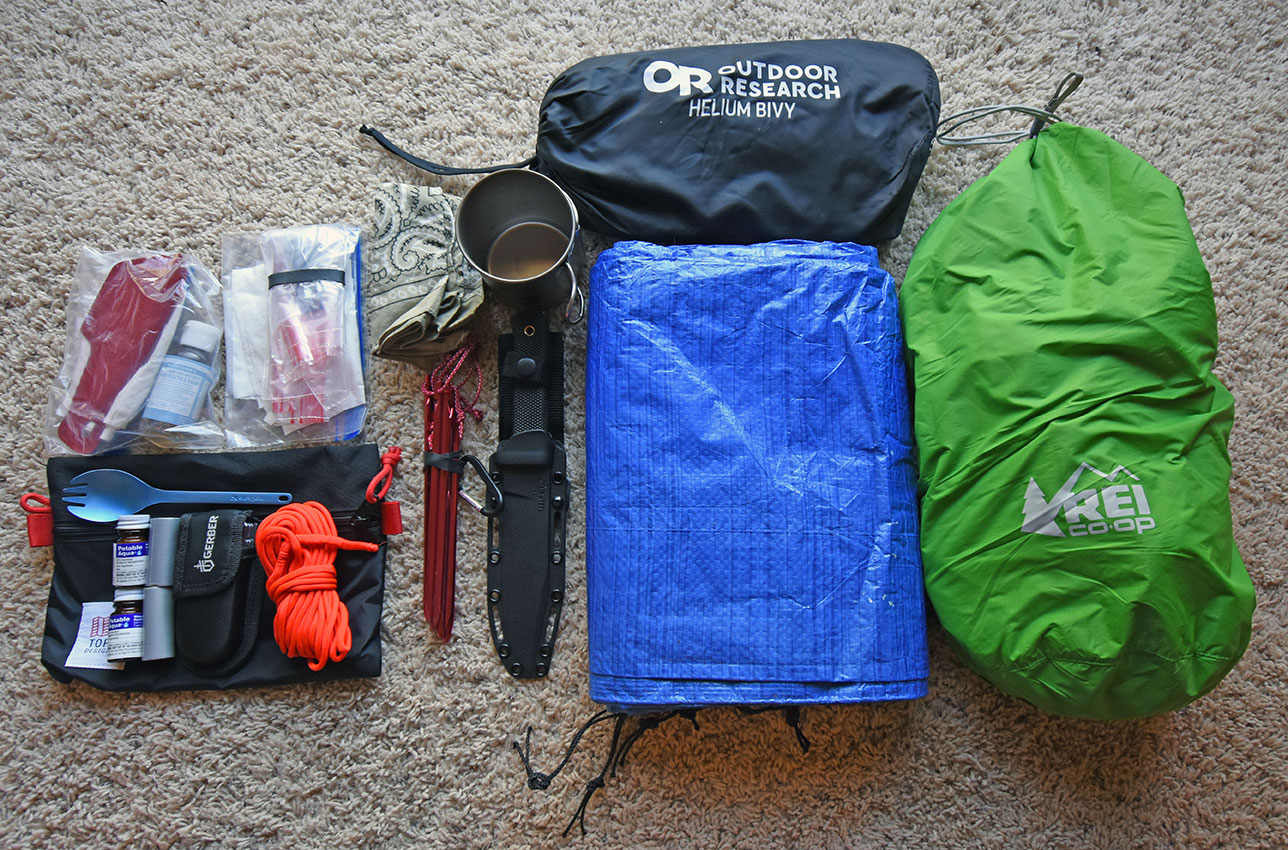 Hasty pack
My hasty gear is confined to two pack modules, my helmet, and my chest harness, all of which are also carried for 24-hour missions.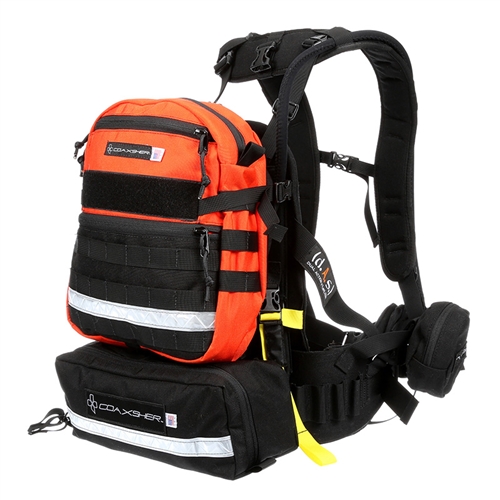 For my hasty pack, I chose the Coaxsher SR-1 Recon Search and Rescue Pack, specifically so I could detach the pack modules and throw them in my 24-hour pack. I'll cover this below, but my chest harness is also made by Coaxsher, and it attaches to the harness system. I'm not a huge fan of water reservoir bladders (although I have more than one), so I also carry two bottle pouches that attach to the harness with MOLLE webbing.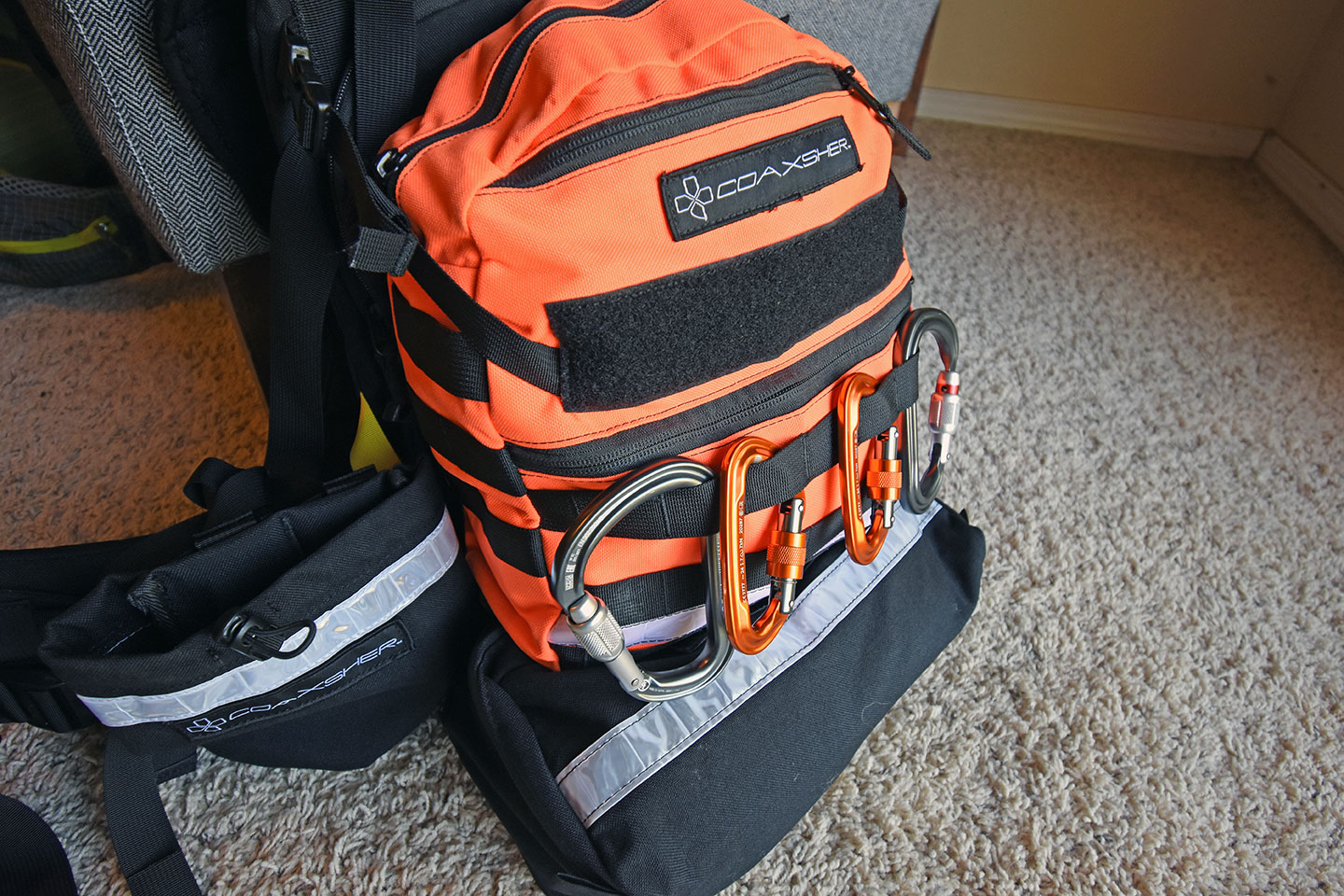 Hasty pack dump
I won't cover everything I carry in my hasty pack, but I will point out a few add-ons in the kit.
You'll notice film canisters in the photo, in which I carry spare batteries for my GPS and headlamps. The Topo accessory bags hold backup power supplies and cables for my phone and additional first aid supplies.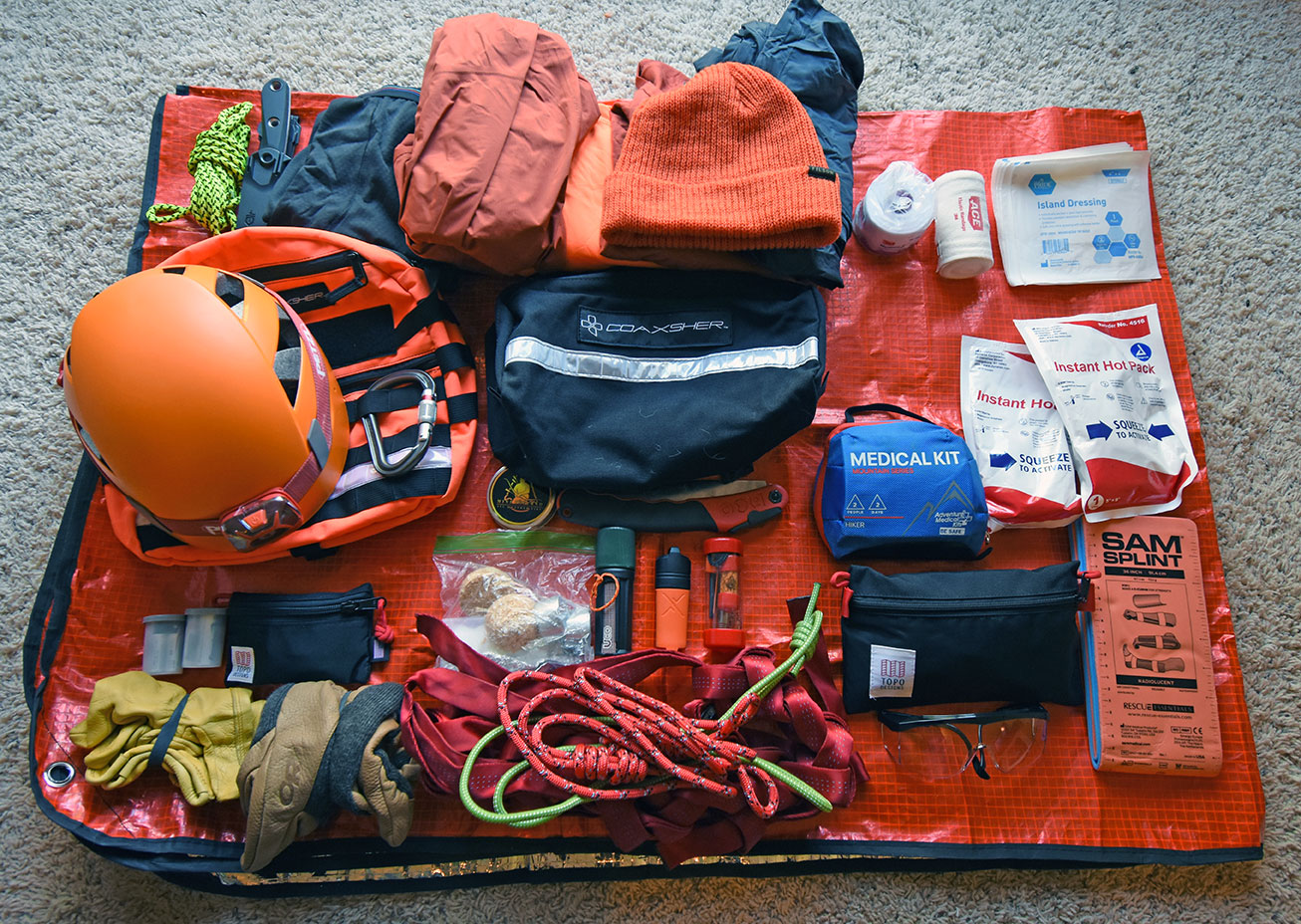 Chest harness
Because it integrates into my hasty harness system, I use the Coaxsher MOLLE Chest Harness.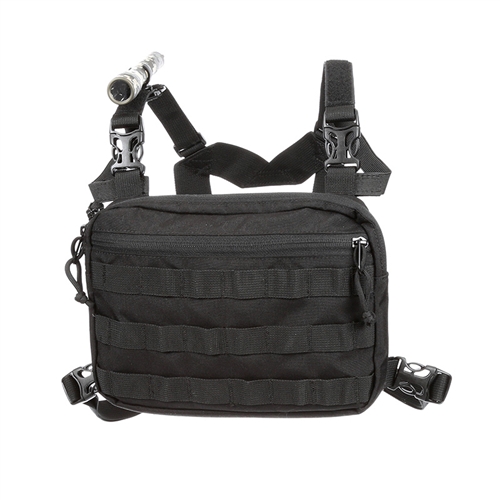 Although it doesn't allow for diagonal radio carry (which is useful to keep attenaes out of your face), I like that the MOLLE system allows me to customize and modularize my chest rig as I see fit. I wear it under my 24-hour pack, and I can either wear it under my hasty harness or remove the chest harness straps and attach the chest pack directly to my hasty harness.
On my current setup, I have the gadget case to house my whistle, flagging tape, and Garmin etrex (more about GPS devices below). I also carry the radio holster for my Icom F3001.
I bought the fold-down map case, but I haven't yet added it, mostly because of its bulk. Similarly, I have the flagging tape dispenser, but I haven't found the need for it.
My chest kit is where I've customized the most, with multiple add-ons and redundancies, primarily for navigation.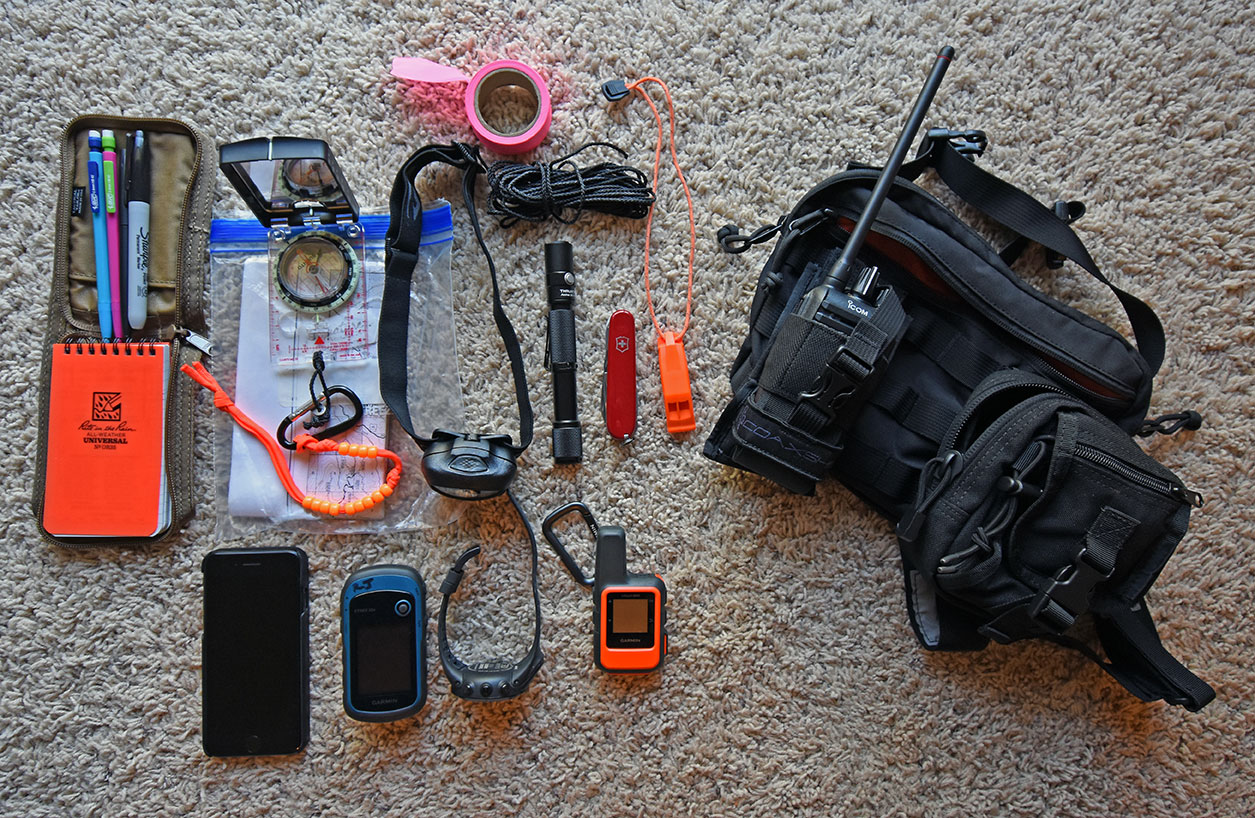 GPS devices
I carry four separate GPS devices: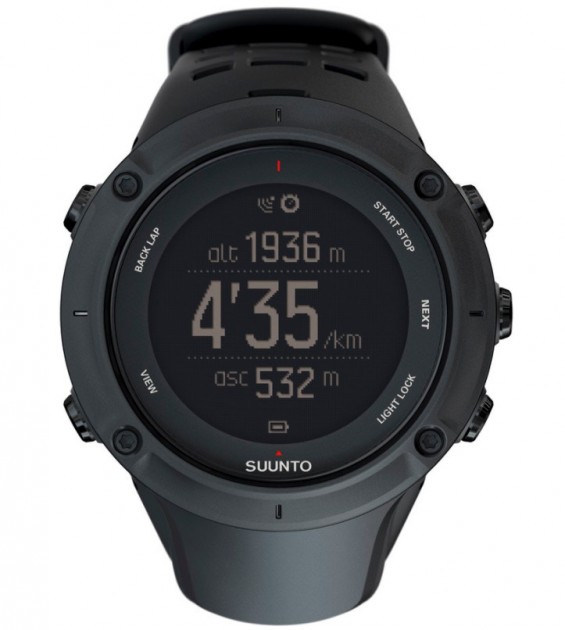 Here are a few other notable items in my chest kit:
Required gear
Once again, here is the required list of gear, with the two categories of 24-hour and "Hasty":
| | | |
| --- | --- | --- |
| | | Clothing and Pack |
| X | X | Backpack: 24hr: 40+ liter, Hasty: 25+liter |
| X | X | Chest Harness |
| X | X | Shirt - Orange, Wickable Long or Short Sleeve |
| X | X | Base Layer - Top and Bottom, Weather Appropriate |
| X | X | Gloves - Two Pair - For warm and cold weather |
| X | | Hat/Helmet Liner/Warm beanie - Weather Appropriate |
| X | X | Climbing Helmet - UIAA/CE certified |
| X | X | Pants - Waterproof Breathable Shell (Durable) |
| X | | Orange Vest (If your Waterproof Shell isn't orange) |
| X | X | Long Field Pants (durable) |
| X | | Mid layer - Wool or Poly Fleece |
| X | | Socks - 2 Pair |
| X | | Waterproof Breathable Shell (with attached hood) |
| X | X | Boots with Lug Soles - Over Ankle |
| | | Survival Gear |
| X | X | Compass w/ sighting mirror & declination adjustment |
| X | X | Notepad (Waterproof - Rite in the Rain) |
| X | X | InReach or GPS Garmin 62 or higher with 1/24,000 topo base map. Or, smartphone with Gaia with downloaded base maps for Clackamas County |
| X | X | Backup batteries: GPS or smartphone |
| X | X | Pencil/Pen and Black Permanent Marker |
| X | | Knife - Fixed Blade with one piece spine. |
| X | | Small Folding knife or scissors (Raptor Style) |
| X | | Prusik loop - 6mm x 6' |
| X | | Purcell Prusik loop - 6mm x 10' |
| X | X | 2 x 1" Webbing - 20' red. Either climb or mil spec ok |
| X | | 550 Nylon Cord - 50 ft. |
| X | X | Locking biners: 24Hr: 3, Hasty 1 Pear Shaped, 22kN |
| X | X | Survival Blanket (Heavy Duty all-weather/sportsman 5'x7') |
| X | X | Survey Tape (Hot Pink) |
| X | X | Plastic Whistle with no bead |
| X | X | Fire Starters (Suggest, petroleum jelly and cotton balls) |
| X | X | Storm Proof Wooden Matches |
| X | X | Match Holder (Waterproof) |
| X | X | Food and Snacks (24 hr supply) |
| X | X | Eye Protection (safety glasses, goggles, sunglasses) |
| X | | Poly Tarp - Blue 8' x 10' or bivy sack |
| X | X | Headlamp or Hands-Free Light w/ extra batteries |
| X | X | Spare Flashlight w/ extra batteries |
| X | X | Water - 2 qts Min, 100 ounce (3 litres) preferred |
| X | | Metal Cup |
| X | | Water Filter or Chlorine Tablets |
| X | | Toilet Paper in waterproof bag |
| X | X | Folding Wood Saw (10" Corona works very well) |
| X | | Ziploc Bags - 2 ea Gallon and 2 ea Quart (Freezer) |
| X | | DuctTape-3ftmin |
| | | Personal First Aid Kit |
| X | X | Barrier Protection Gloves - 2 pair |
| X | X | 4x4 Bandages - 6 ea. |
| X | X | Adhesive Bandages - 6 ea, 1" |
| X | X | Adhesive Tape - cloth, 1" |
| X | X | Compress - 5x9 |
| X | X | Heat Packs |
| X | X | Triangular Bandage |
| X | X | Ace Wrap/Israeli Bandage |
| X | X | Roll Gauze (eg: Kerlix) - 2" min |
| X | X | Waterproof SOAP Note Sheet (provided by team) |
| X | X | CPR Barrier |
---