Search and rescue: supplemental gear
Last fall I wrote about our search and rescue team equipment requirements, and how I designed my pack around the "24-hour" and "hasty" pack versions.
Well, those requirements recently changed. The leadership team's goal was to reduce pack weight by introducing a new "rescue pack" equipment list, which includes a subset of the former 24-hour gear. From my limited experience, this makes sense, considering the redundancy and superfluity of having multiple team members carrying pieces of gear that are either unlikely to be required for most missions or of which the team only needs one (a tarp for subject packaging, for example).
There is a caveat: all of the formerly required gear for 24-hour missions not included in the rescue pack are still required to be present for every mission (including some additions, namely snowshoes and microspikes), so vehicle gear storage is now essential. The 24-hour supplements must be available to quickly include in the rescue pack depending on mission requirements.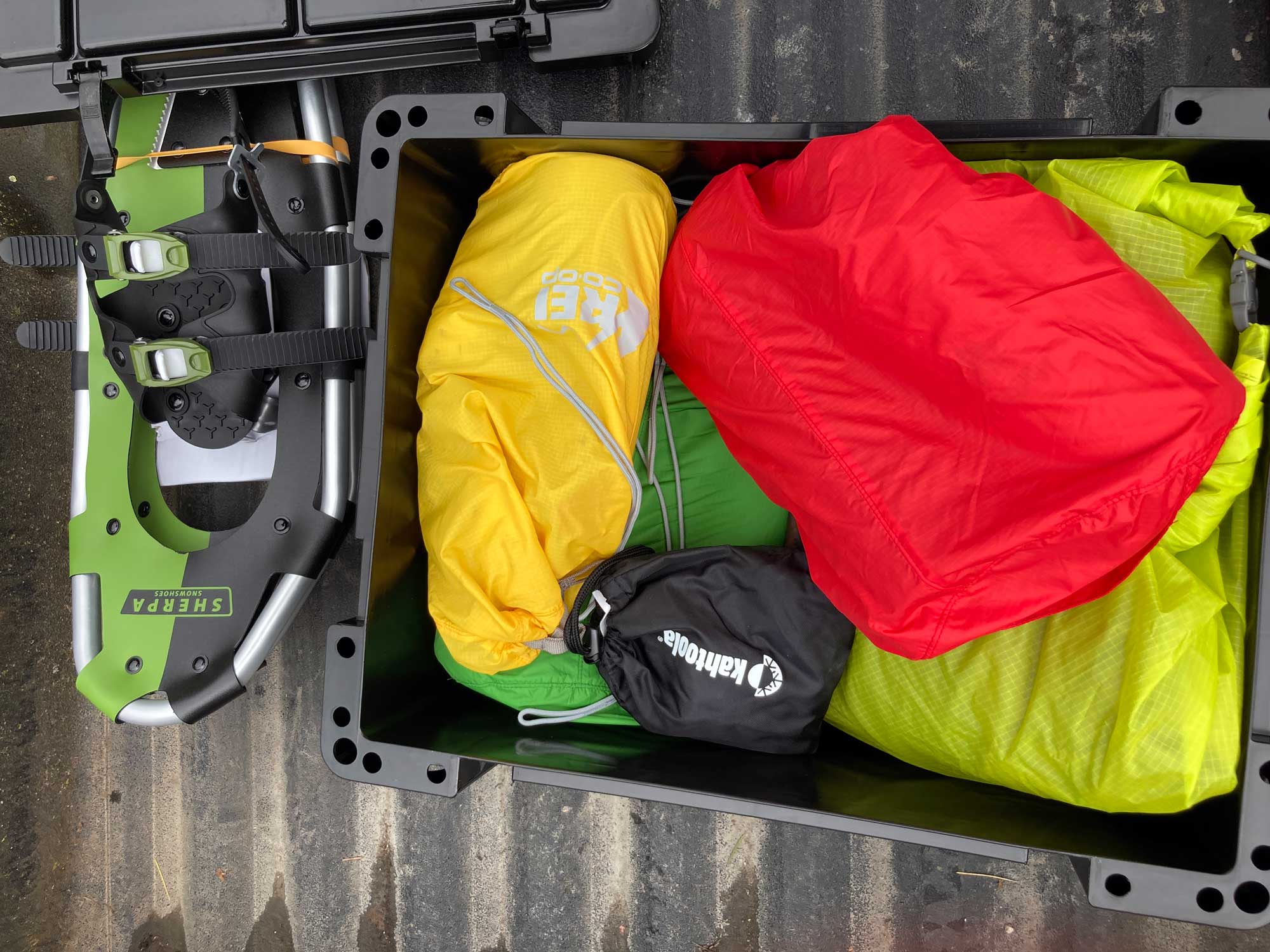 I welcomed this change following my shoulder surgery in December 2021. The pack is definitely lighter, and, even when accompanied by my chest pack, is easier to carry in the field.
So here's a breakdown of what I now carry in my vehicle to supplement my rescue pack.
In my truck
Water kit
This isn't required, but I carry a supplemental water kit. I continue to carry chlorine tablets in my rescue pack. Water purification is no longer required for the default rescue pack, but I was on a recent mission in which another team member was overheating and needed my water for cooling, so I still carry chlorine tablets in case I need to disinfect water on a long, hot mission. Tablets are small, lightweight, and potentially life-saving, especially in the summer.
My supplemental water kit includes: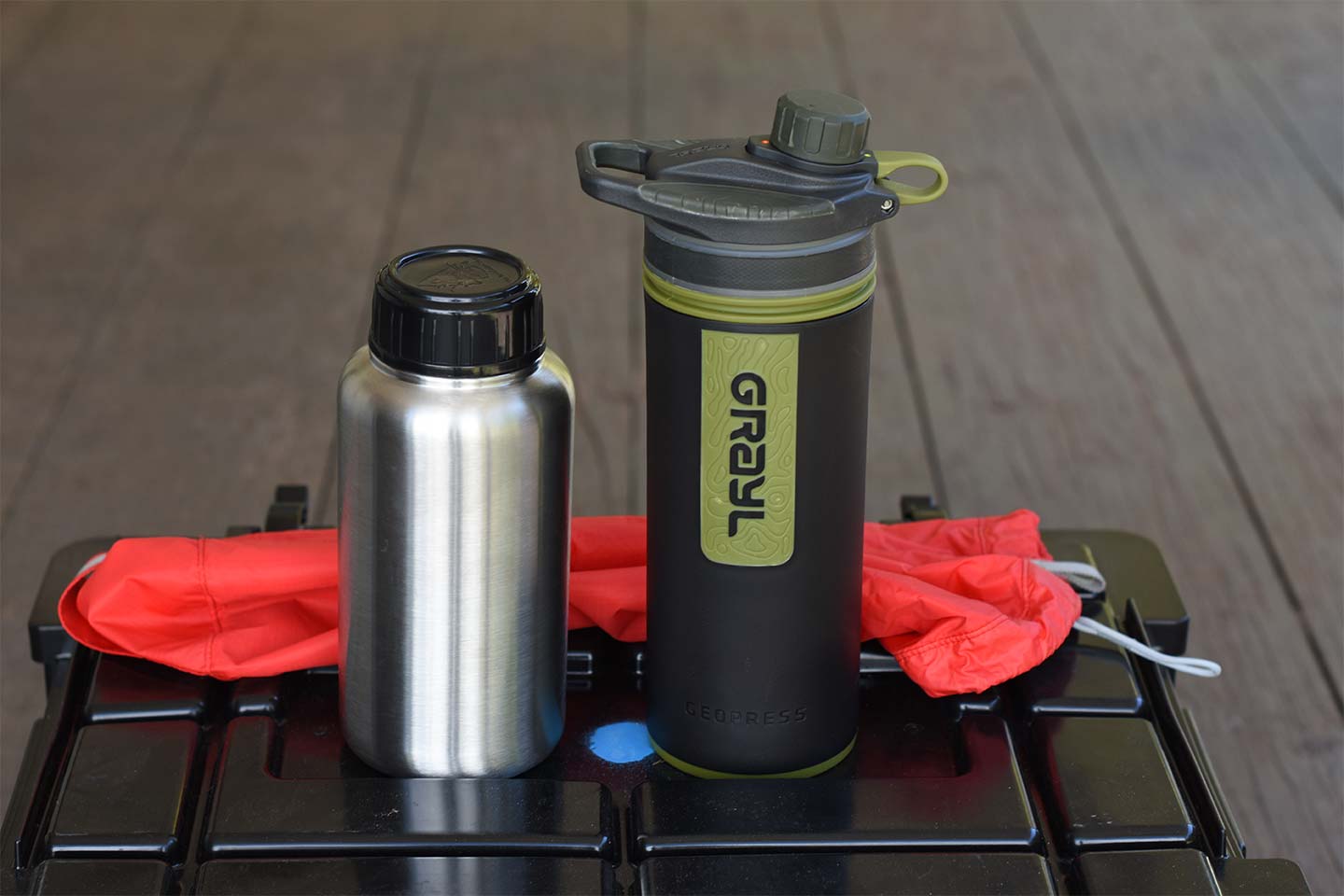 These two options allow me to have a total of three water disinfection options. The single-walled bottle offers the option of purification by boiling, the Grayl Geopress is a filter (and simultaneously an additional container), and I carry tablets.
Fire kit
My fire kit includes:
Fire starters
Lighters
Stormproof matches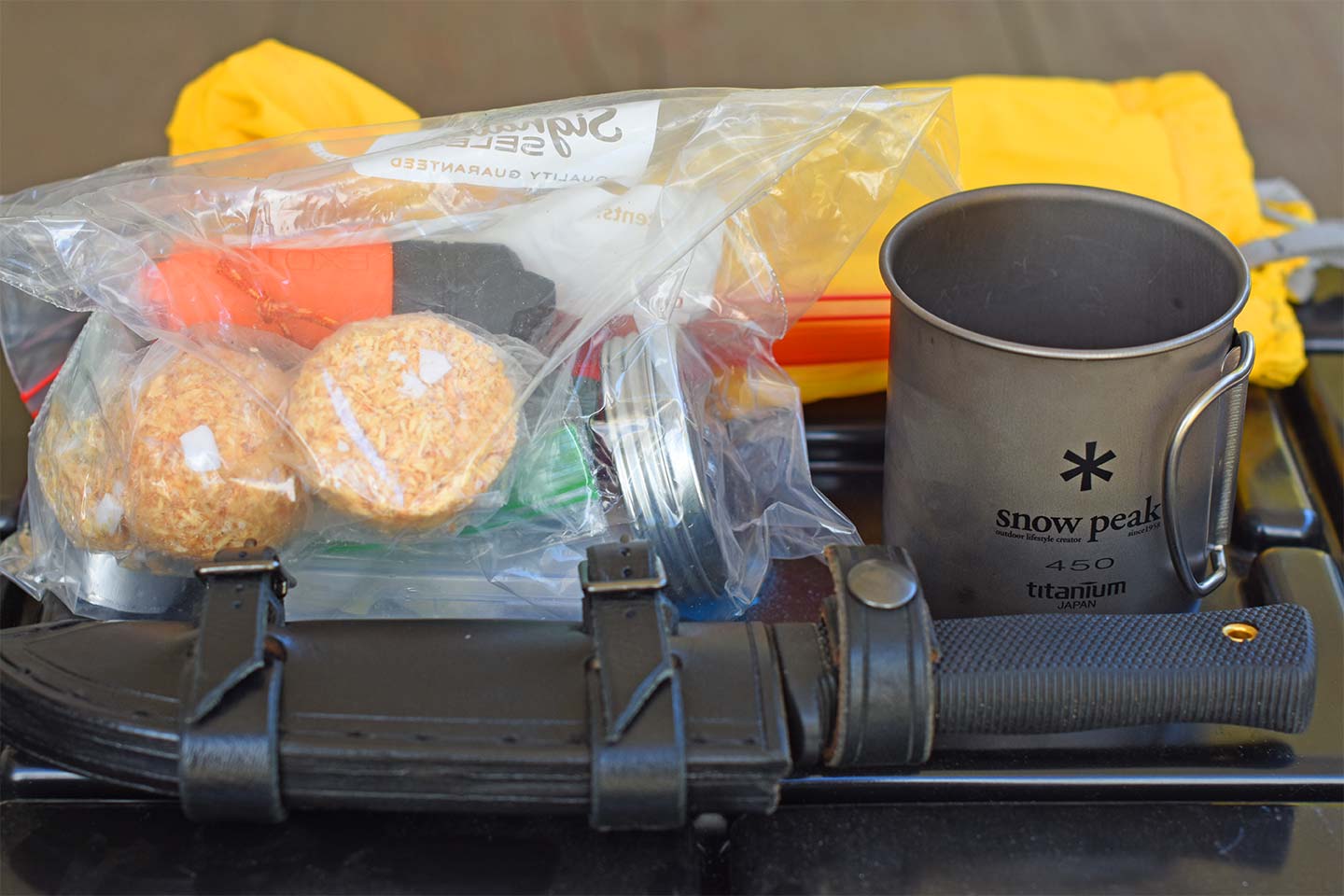 Shelter kit
I actually switched this up just after taking this photo. I decided the stove makes more sense in the fire kit, so I moved it there.
This one is somewhat difficult to organize, because tarps are intended for both shelter and subject packaging for litter rescue. Since I carry a bivy in my rescue pack, it's more likely that I would use the tarp for packaging, which happens relatively often.
In any case, this kit is in the truck:
Stove fuel
Lighters
Pathfinder cup and lid
Tarp (80 sq ft)
Prusik loop constructed from 6ft of 6mm cord
Purcell prusik loop, constructed from 10ft of 6mm cord
Additional carabiners
It should be noted that the prusiks are included in a smaller bag that can be removed from this kit and included in another.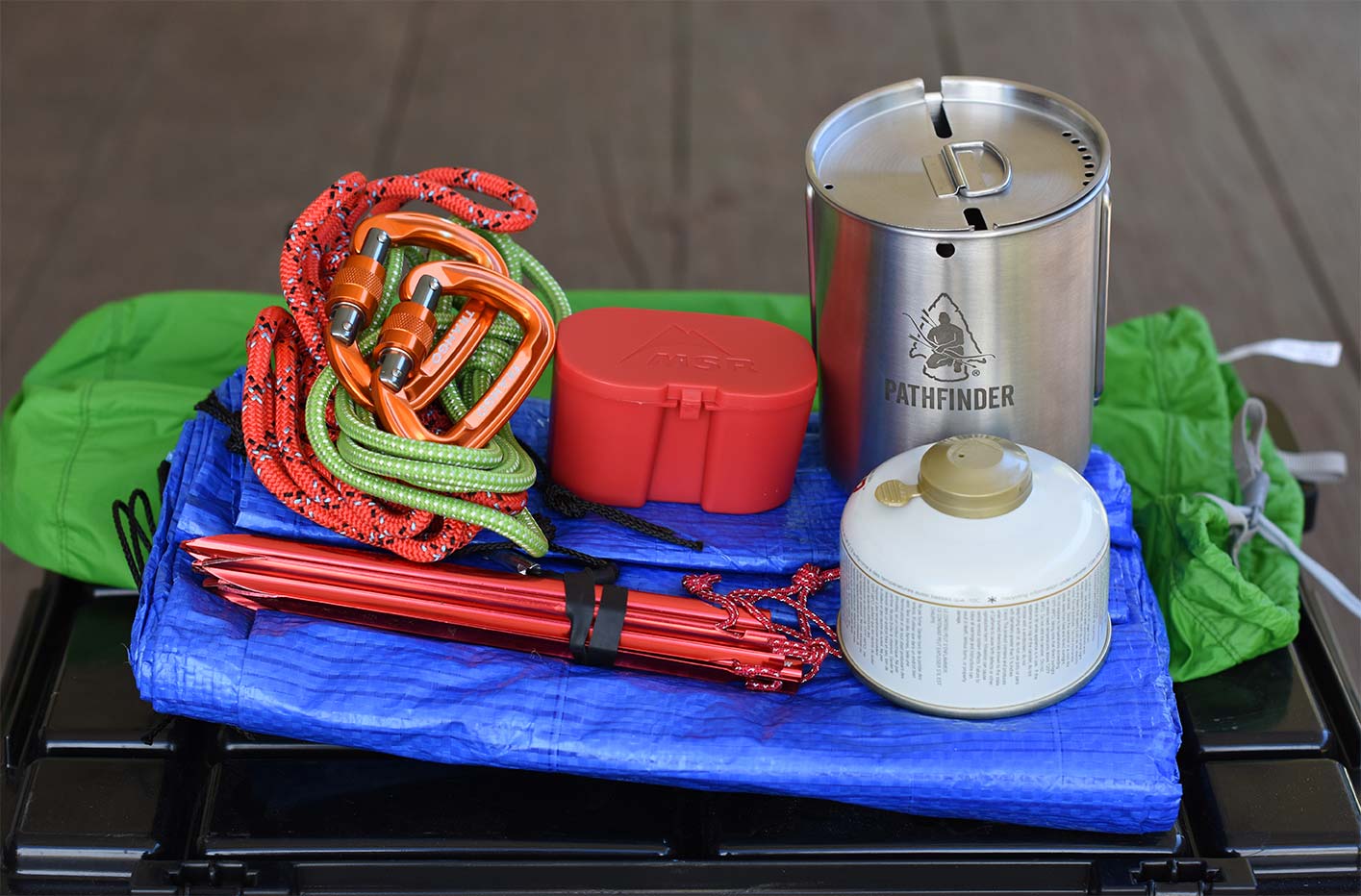 Food, coffee, and electrolytes
I carry multiple Mountain House freeze-dried meals, along with instant coffee and electrolytes.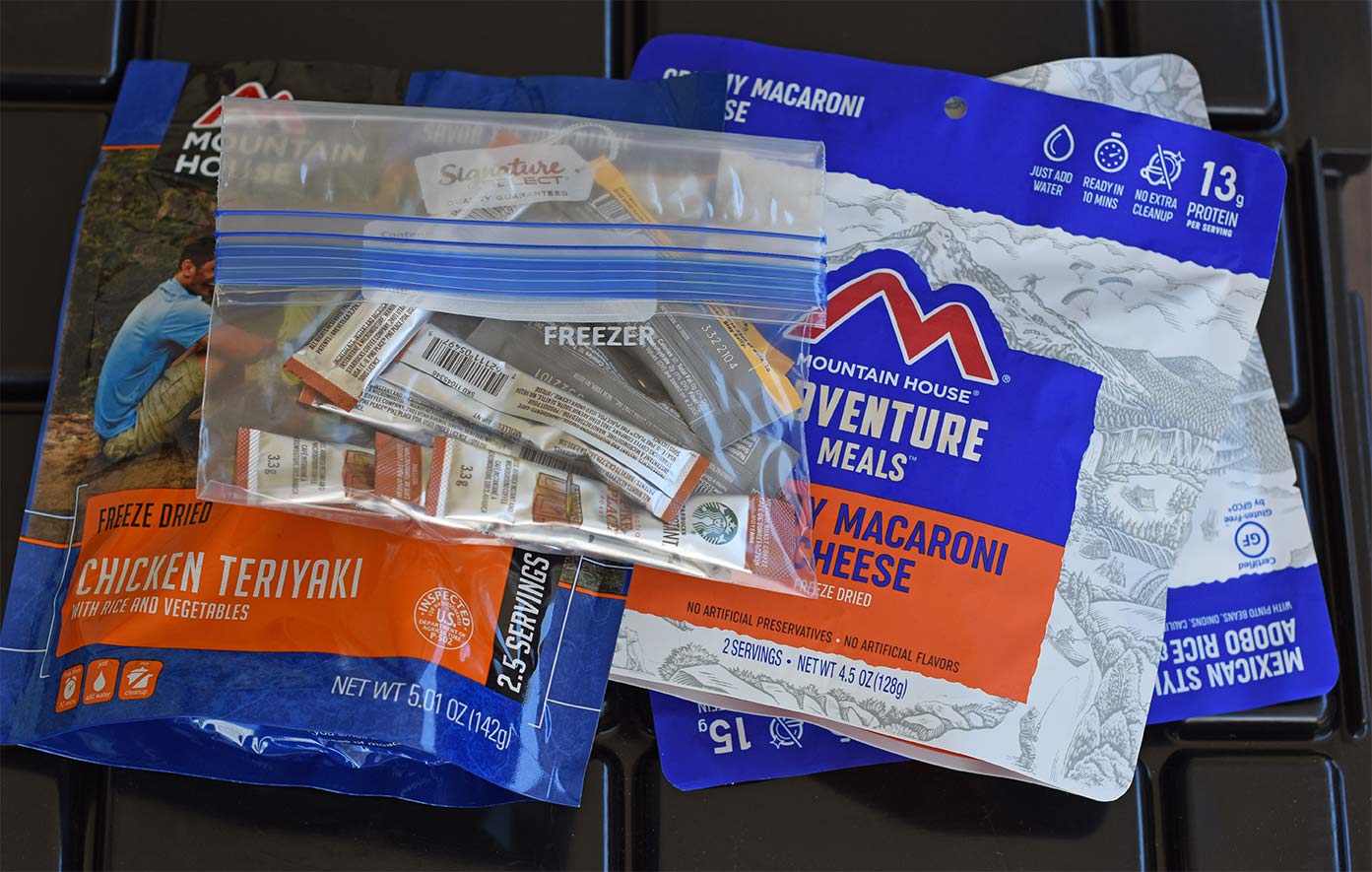 Snowshoes
Snowshoes weren't required in the previous gear list, and the team has several pairs on hand for team members. I picked some up anyway, because we've had several recent missions for which they were required.
Extra clothing
Our previous pack had always-carry clothing requirements, but the new spec does not. Nonetheless, I carry a supplemental clothing kit with the following:
Gloves (both an extra pair of leather gloves and leather insulated gloves)
Base layers (top and bottom)
Rain pants
Beanie
Fleece
Socks (x3)
Required equipment
Rescue pack
Pack Checks will be on all required gear for Type 2 Searches
The Rescue Pack Is CSAR's Primary Pack
R = Required, Blank = Optional

| | | | | | |
| --- | --- | --- | --- | --- | --- |
| 1 ea | Backpack* | | R | | See clothing guidelines examples |
| 1 unit | Water -2 qts min, 3L preferred | | R | R | |
| 1 ea | Radio (personal or county) | | R | R | Baofeng UV5R, iCom |
| 1 ea | Compass w/ sighting mirror and declination adjustment | | R | | Suunto MC2 |
| 1 ea | Notepad (waterproof) | | R | R | Rite-N-Rain |
| 1 ea | Pen/Pencil | | R | R | |
| 1 ea | Black permanent marker | | R | R | |
| 1 ea | GPS Device | | R | | Garmin 64, 66, 62, 65, Gaia app on phone |
| 1 ea | GPS Device battery backup for 24 hrs | | R | | |
| 1 ea | Red tubular webbing (20ft) | | R | | See CSAR Merchandise rep |
| 1 ea | Carabiners, 22kN longitudinal stength | | R | | Petzl Am'd or OK or equivalent w/ 22mm gate opening |
| 1 ea | Survival blanket | | R | | Helios, durable emergency blanket |
| 1 ea | Hands-free light w/ extra batteries | | R | | Headlamp, clip on flashlight |
| 1 ea | Wood folding saw | | R | | Corona folding saw |
| 4 ea | Ziploc bags (2 x qt, 2 x gall) | | R | | |
| 1 unit | First Aid Kit (FAK)** | | R | R | See prior equipment list first aid kit items** |
| 1 ea | Pink survey tape | | R | | |
| 1 ea | Plastic whistle (no bead) | | R | | Fox |
| 1 unit | Food/snacks for 24 hrs | | R | | |
| 1 ea | Eye protection | | R | | |
| 1 unit | Toilet paper | | R | | |
| 1 ea | Chest rig or battle belt or vest | | R | R | Ability to carry Radio, Compass, GPS (Coaxsher, Team Wendy) |
Required supplemental kit
Additional required gear that must be readily available to add to the Rescue Pack for extended (24 hr) missions or required by Team Leaders
| | | | | | |
| --- | --- | --- | --- | --- | --- |
| 1 ea | Secondary light source (flashlight w/ extra batteries) | | R | | |
| 1 unit | Fire starter | | R | | Petroleum balls, tinder |
| 1 unit | Storm/waterproof matches w/ holder | | R | | UCO |
| 1 ea | Knife, Fixed Blade & Full Tang (to baton wood) | | R | | cold steel, SOG, buck knives, gerber, leatherman |
| 1 ea | Duct tape (3ft) | | R | | |
| 1 ea | Metal Cup | | R | | |
| 1 ea | Prusik Loop constructed from 6ft of 6mm cord | | R | | see CSAR Merchandise rep |
| 1 ea | Purcell prusik loop, constructed from 10ft of 6mm cord | | R | | see CSAR Merchandise rep |
| 1 ea | 550 Nylon cord (50ft or 2 x 25ft) | | R | | |
| 1 ea | Water purification method | | R | | chlorine tablets, bottle filter, etc. |
| 2 ea | Additional carabiners, 22kN longitudinal stength | | R | | Petzl Am'd or OK or equivalent w/ 22mm gate opening |
| 1 ea | Minimum 80 sq ft waterproof shelter tarp | | R | | |
| 1 ea | Helmet (UIAA/CE certified) - worn at TL direction | | R | | Petzl, Black Diamond, Kask |
| 1 ea | Snowshoes (seasonal, personal or county) | | R | | MRS Ascent, MSR Evo |
| 1 ea | Microspikes (seasonal) | | R | | Khatoola, Black Diamond |
| 1 ea | Splint - several sizes per team | | | | SAM |
| 1 ea | Garmin Inreach - per team | | | | |
| 1 ea | Stove Jetboil, MSR | | | | |
* Backpack must be large enough to internally carry the 24 Hr gear items (except snowshoes) OR rapidly interchangeable packs
** Until EMS committee publishes new Individual First Aid Kit guidelines
*** Low-Intensity Pack (Type 3 or 4 Searches or Type 2 searches that are close to support, etc)
---